We are looking for people who are passionate about making a real difference for people with mental health problems.
It is vital that the mental health workforce represents the people it supports.  We encourage applicants from diverse backgrounds, including people from Black, Asian and ethnically diverse communities, people with disabilities, and those who identify as being part of the LGBT+ community. We also encourage men to apply, as they are currently underrepresented in the workforce.
If you're looking for our eligibility criteria, please visit our how to apply page.
Meet our participants
Over 700 graduates and career-changers have joined the Think Ahead programme.
They come from a wide range of backgrounds, careers, and have studied at more than 120 different universities, with degrees ranging from politics to sports science.
You can learn more about them by watching our short film, which was made at our Summer Institute in 2018, or by reading the stories below.
I had seen how important social factors are to people's mental health.
Tom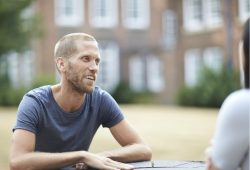 From personal experience of anxiety, depression and OCD, starting when I was at university, I learnt how critical it is to have a supportive network of friends and family, secure personal circumstances, and access to good treatment.
After finishing my studies – in Politics and Philosophy, followed by a master's in Globalisation and Development – I got a job as a researcher for an MP who chaired a cross-party group of MPs and Peers sharing a common interest in mental health.
The combination of these experiences inspired me to pursue a career in mental health. I went on to work in policy and campaigns at the charity Mind, managing a team focused on the social side of mental health – including issues around benefits, debt and employment.
Although I really enjoyed this work, I decided to join Think Ahead because I wanted to directly support people with mental health problems, see the impact my work has on their daily lives, and promote a social model of mental health in frontline services.
Through my work in policy I had seen how important social factors are in people developing, and recovering from, mental health problems. They're often at the forefront of people's minds, and when addressed they can significantly improve their mental health.
This is why becoming a mental health social worker with Think Ahead seemed like the perfect fit for me – it's a movement I'm really excited to be a part of!
Tom – University of Sheffield and SOAS graduate and 2018 Think Ahead participant
I was attracted to social work because it's a profession where you get to spend a lot of time with a person, building up a relationship.
Hannah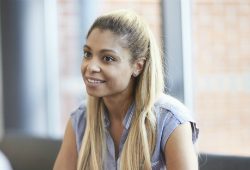 I decided to apply to the Think Ahead programme while I was at the University of Sheffield. I had joined university after a break from work while I was caring for my daughter and my son full time, but once they were both at primary school, I turned my attention back to my career.
I studied Social Policy and Criminology for my undergraduate degree, and when I came across the Think Ahead programme it was everything I had been looking for – the opportunity to further my education and to make a real difference to the lives of people with mental health problems.
Alongside my degree I worked with the Sheffield Area Refuge & Support and have also previously volunteered for Apna Haq in Rotherham. Both organisations offer support for women and children, many who have experienced domestic abuse, prostitution, substance abuse problems, forced marriage or child exploitation.
The more work I did volunteering, the more people I came across with mental health issues. That made me really motivated to work in this area, because I could see what an impact mental health issues can have.
I was attracted to social work because it's a profession where you get to spend a lot of time with a person, building up a relationship. In other job roles you often don't get that one-to-one contact over a long period of time.
Social workers don't come in as professionals and tell service users what's best for them – they go in and work with them, advocate on their behalf and listen to their wishes. They get to make a real difference by looking at a person's family, their past, what they want for their future, what their support network is like, as well as practical issues like housing. It means being able to build up a bigger picture of the issues someone faces and focus on their priorities.
I think working with people over a longer period of time, and supporting them in their recovery, is really rewarding.
Personally speaking, I'm particularly interested in issues that predominantly affect women, particularly after my experiences with volunteering. In the future I can see myself doing more research into domestic abuse and its links to mental health.
Hannah Morris, University of Sheffield graduate and 2019 Think Ahead Participant
I worked in the City as a head hunter for banks but I didn't find this fulfilling.
Jan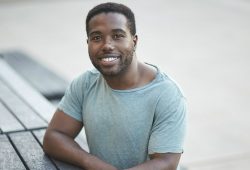 After studying Ancient History at university, I worked in the City as a head hunter for banks but I didn't find this fulfilling. My second job was working with young people with learning difficulties, which I really enjoyed.
While I was there, I met a social worker who I found really inspiring. That was when I decided to go back into education to study Psychology. When I graduated, I applied for the Think Ahead programme because it offered the perfect opportunity to study for an MA while also being paid to work in mental health social work.
Being on the programme has given me the opportunity to work with people who have a wide range of mental health problems. The Think Ahead programme has given me a deeper understanding of the impact that mental health can have on both the individual and the people who care for them. I've also gained insight into the impact of housing, benefits, poverty and deprivation on people's mental health, and the plight of some people in London.
What makes this programme stand out is that you are training with like-minded people who all want to achieve the same goals.
We are all driven by the desire to work in this sector and, if possible, help improve existing services for the benefit of our clients, utilising fresh ideas and new ways of working. Overall, we hope to have a lasting impact.
It is exciting to think that the work we are doing isn't just confined to our team or even our region; it is happening all over England.
Jan – University of Edinburgh graduate and 2017 Think Ahead participant
I chose Think Ahead as it gave me the chance to have the maximum positive impact, by working in the community from the start.
Mo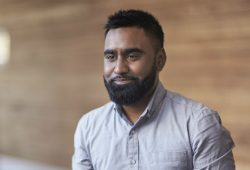 I studied for my psychology degree as a mature student, while working for UPS in a pretty lucrative role – my managers promised me better roles and a higher salary, but I found that the corporate world just didn't motivate me.
Alongside my degree I also volunteered as a ChildLine counsellor and at a nearby substance user recovery service, and I knew that I wanted to have a positive impact on people's lives and to make a difference in a tangible way.
I was attracted to social work as I believe social workers have a huge and beneficial impact on the lives of people with mental health problems. I chose the Think Ahead programme as it gave me the chance to have the maximum positive impact, by working in the community from the start.
My values and ethical principles have been influenced by my cultural upbringing and faith – alongside the difficulties and hardships that come from growing up in a minority ethnic community and migrant family, I also witnessed the suffering caused by my mother's severe epilepsy from a very young age.
The death of my grandfather was also very difficult for us all and the anxieties that arose from seeing the effects of my mother's illness first-hand, as well as my experiences with loss and bereavement, are part of what motivated my passion for understanding the mind and human behaviour.
If you have a passion for mental health, promoting recovery and having a positive impact on the lives of some of the most vulnerable people in society, the Think Ahead programme can provide you with the tools you need for a career in mental health social work.
I have a number of hopes for my future as a mental health social worker. I hope to maintain my passion to empower those with mental illness to lead fulfilling lives; to maintain my values of seeing the strengths in people rather than stigmatising labels; to advocate for those whose voices are not heard; to empower their independence, their individuality, their wishes and aspirations, and to be a supporting hand in their journey of recovery.
Mo Rahman, University of Derby graduate and 2019 Think Ahead Participant
I really enjoy mental health social work because it requires heart as well as brains.
Rebecca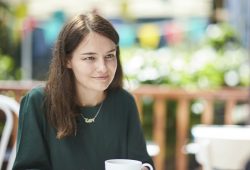 My interest in mental health was sparked early on: when I was a teenager I received support from Child and Adolescent Mental Health Services (CAMHS) for an eating disorder. I was very well supported, but I know that's not the case for everyone.
I went on to become a CAMHS peer support worker and the official carer for my best friend who was experiencing mental health problems at university. I have seen first-hand how debilitating mental illness can be, but also that it's possible to manage it and lead a fulfilling life if you're properly supported.
Before coming across Think Ahead, I studied Theology at the University of Cambridge and considered working in international development. I was looking for a career that would enable me to help people – something a lot of graduates want! Think Ahead takes this vague idea of wanting to support people and channels it into something remarkable that allows you to make a real difference to people with mental health problems.
What I immediately loved about the Think Ahead programme is that the work you do is very personal – you often visit people in their homes and you're directly involved in their lives. I was surprised at the level of responsibility you get from day one. It's daunting at first, especially when you realise that the decisions you make have a real impact on someone's life. It's been a steep learning curve, but the programme provides a lot of support.
Its academic structure gives you the robust framework you need to reflect on your practice, and sets aside dedicated time to invest in your own learning.
The spirit of community among Think Ahead participants has also been amazing. From the very beginning you're in a group of like-minded people who give each other advice and make up a pool of knowledge you can tap into throughout the programme. Being a mental health social worker can be emotionally and intellectually demanding, so it's great to have that kind of support system.
I really enjoy mental health social work because it's a profession that requires heart as well as brains. I feel that the programme has such a deep impact on who you are as a person. It challenges how you think about the world and how you act in relation to it.
Rebecca, University of Cambridge graduate and 2017 Think Ahead participant
I had considered other frontline roles in mental health but I wanted to be able to support people more holistically.
Valeria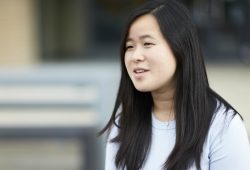 I have always been interested in mental health. While I was studying for my degree, I volunteered for a student helpline, and I have also done placements at psychological services in the UK and Hong Kong.
I learnt that culture plays a significant role in a person's response to mental health problems. In Asian countries, many people don't speak openly about their mental health because they are afraid of the stigma and discrimination from those around them. However, conducting research to evaluate psychosis treatments in the UK made me realise that stigma is still a big problem in this country as well.
When someone recommended the Think Ahead programme to me, it stood out because of its clear focus on mental health. The Think Ahead attributes, such as leadership and motivation, also really appealed to me.
I had considered other frontline roles in mental health but many services can only provide limited support, and I wanted to be able to support people more holistically.
A social worker's role addresses many of the issues that affect a person's wellbeing – such as their work, their family structure and their social life. That's what's great about social work: you see the whole person. You treat them as an individual and let them be heard.
Valeria – King's College London graduate and 2018 Think Ahead participant
The Think Ahead attributes
Think Ahead is an intensive programme with strictly limited places, and the selection process is very rigorous.
We are looking for exceptional individuals who have the potential to become excellent mental health social workers, and go on to lead change in their fields.
You don't need any prior experience of social work, but you will need to demonstrate that you have the attributes necessary to excel on the Think Ahead programme and beyond.
To learn more about the attributes you will need to demonstrate to be successful, read on or watch the video below.
Leadership
The ability to act as a professional role model, demonstrate initiative, and engage others and enable them to achieve their goals.
As a mental health social worker you will lead the coordination of individuals' care, engaging with different colleagues and professionals to work towards someone's recovery. You may need to be creative in your approach to situations as you work with individuals, their carers, and other professionals.
Motivation
Personal commitment to transforming the lives of people with mental illness, with an understanding of the positive impact of social work and the Think Ahead mission.
We are looking for people who are committed to making a positive impact for individuals, families, and communities. You need to understand how social work contributes to improving mental health, and how Think Ahead is making a difference.
Adaptability
Resilience and flexibility in changing circumstances, with the ability to work under pressure and deal with uncertain or unexpected outcomes.
Social work is an ever-changing environment and you will need to be prepared for every eventuality, including crisis situations. Your work with vulnerable adults will put you under pressure, and you will need to remain calm and patient in unexpected situations. You will work with a variety of different people in a range of working environments.
Relationship-building
Empathy and respect for all individuals, with the ability to build relationships and understand people's motives and perspectives.
You will need to develop strong relationships with people, from service users and carers to colleagues in mental health, government, the legal system, and many other services. You must be able to listen to others and respect their opinions, and confidently put forward your views as an advocate for the people in your care.
Communication
The ability to collaborate with and influence a wide range of people, in person and through written communication.
You will need to communicate effectively and respectfully with people whose ability to communicate may be impaired by their illness. A vital element of your role will also be collaborating and negotiating with other mental health professionals (such as psychiatrists and psychologists) and people from other organisations. As well as communicating assertively in meetings and discussions, you will need to create robust, concise written arguments, for example in writing Mental Health Act tribunal reports.
Problem-solving
The ability to objectively analyse situations, using evidence and clear judgement to generate effective solutions.
You will have to make decisions under pressure, in complex situations with only conflicting or incomplete information available. This will require you to apply your knowledge of legislation, policy, and social work interventions, using clear judgement and objectivity.
Self-awareness
The ability to understand, and reflect critically on, both your own personal development and how your actions affect others.
To manage your personal wellbeing and your impact on the people you work with, you must be in touch with your own emotions and abilities. You will manage a pressured workload and face difficult ethical judgements, so you must be aware of professional boundaries and know when to seek support and advice. You will be required to regularly reflect on your work, seeking feedback and engaging in continuous professional development.