Join Think Ahead as a Recruitment Ambassador or Intern
We can today announce that we're opening applications for two additional opportunities for students and graduates to work with Think Ahead.
We're looking for a number of current students to take on the role of Recruitment Ambassador at their university throughout the autumn term, and for a student or graduate to join us an intern in head office.
Both roles are vital in helping to promote the Think Ahead programme and to encourage people to consider mental health social work as a career. The roles are also a great way to gain experience and to develop new skills. They both pay the Living Wage.
(These roles are in addition to the main Think Ahead programme – applications will open for our 2020 Cohort in autumn this year.)
Recruitment Ambassadors
Recruitment Ambassador roles are open to students who are studying at UK universities in the 2019/20 academic year.
Students taking on this job play a key role in helping Think Ahead to raise its profile amongst students and encourage them to consider mental health social work as a career. It involves using communication channels effectively, networking with students and groups who may be interested, and acting as a professional point of contact for students who are considering applying.
The role is part time (around four hours a week) and is flexible so can easily be built around studies. It takes place from September to December, with a possible extension to February.
This role is great for someone who is passionate about mental health, and is pro-active and good at working independently.
Paid: Living Wage of £9 per hour (£10.55 with London weighting), amounting to around £360 for the autumn term (£420 in London).
Application deadline: Rolling applications, with the final deadline at 9am on Monday 2 September 2019.
Visit our opportunities page to find out more and apply
Chloe's story
Chloe Russell was a Recruitment Ambassador for Think Ahead during the 2017/18 academic year – she did the role alongside her studies at London School of Economics.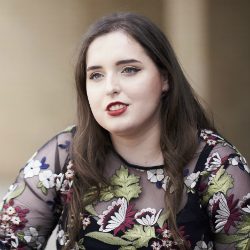 Chloe said: "I wanted to do the Recruitment Ambassador role because I believe Think Ahead is offering an innovative opportunity for students, and I like the organisation's commitment to raising the profile of mental health social work. I wanted to be involved in ensuring that students who were interested in roles in the public sector would hear about the programme.
"I really enjoyed the role – no two weeks were the same. Sometimes I would spend my time assisting students with their applications, other times I'd be promoting Think Ahead at careers fairs. I also organised an event along with ambassadors from other graduate schemes.
"It was very flexible, which meant that on weeks when I was busy with essays, I could prioritise my coursework and just do smaller tasks. I was also able to fit it round my other roles as a peer supporter and President of the Wellbeing Society – so it worked really well for me."
Recruitment Intern
The Recruitment Intern role is open to students and graduates, and takes place over a three week period during the summer.
The Recruitment Intern will support Think Ahead's Recruitment team in attracting diverse and talented applicants to the programme – with a particular focus on planning events for university students and career-changers. This role is a great way to gain first-hand experience of working in the graduate and career-changer recruitment market, and to learn more about mental health social work.
This is a great role for a dynamic, creative and motivated individual, who has a strong interest in mental health and is keen to develop new skills.
Paid: Living Wage of £10.55 per hour (with London weighting), amounting to around £1,200 for the three weeks.
Deadline: 9am on Monday 1 July 2019.