"Think Ahead participants bring innovative research to our meetings and have so much energy and enthusiasm – it's inspiring!"
Kirsty Shires is a Consultant Social Worker on the Think Ahead programme. In her role, she supervises a unit of four Think Ahead participants who are placed within a community mental health team. She and the unit members manage a shared caseload together.
Here, Kirsty explains how being a Consultant Social Worker has reignited her passion for mental health social work, strengthened her skills with evidenced-based practice, and inspired her to set up a social work forum to share ideas with colleagues across her team: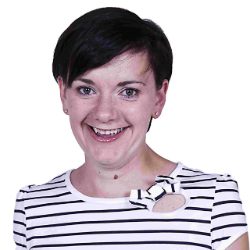 "I qualified as a social worker 11 years ago and worked for five years in an integrated community mental health team before training to become an Approved Mental Health Professional (AMHP). I really enjoyed going back to university for the AMHP training and learning about theory and practice again, so I jumped at the chance to be part of the Think Ahead graduate programme as a Consultant Social Worker.
In my role, I supervise four participants during their first year on the programme. On top of my caseload, I provide individual supervision and facilitate group Case Consultation Meetings where we share research, theories and best practice.
Being part of the Think Ahead programme has been a really positive experience. The participants have so much energy and enthusiasm – it's inspiring! And the level of research and discussion we have each week has made me a better social worker; my knowledge of social work has expanded massively. I am more confident in integrated team meetings because I can point to research to explain why I am taking a specific approach to a person's mental health problem. Doctors and psychologists take an evidenced-based approach, so it's important that social workers do too.
The participants constantly fuel my brain with their ideas. They're ace – I love their enthusiasm! They're so fresh to the sector and are excited about what we can do. They've inspired me to share this knowledge with other colleagues in our team. I've started a social work forum and 12 out of 16 colleagues attended our first meeting, which was brilliant.
Being a Consultant Social Worker on the Think Ahead programme has fired up my passion for mental health social work, and has given me the confidence to try more evidenced-based social approaches in our team, and have a stronger voice in integrated mental health teams."