Meet our participants
Nearly 200 graduates and career-changers have joined Think Ahead so far. They come from a wide range of backgrounds and have studied at more than 50 different universities, with undergraduate degrees ranging from psychology, sociology, and politics, to archaeology, drama, and sports science.
Every Think Ahead participant is dedicated to making a real difference to people with mental health problems.
Here you can read about six of them.
(If you're looking for our eligibility criteria, please visit our how to apply page).
It is very rewarding when you are able to build rapport and help someone recover.
Arnold University of Warwick graduate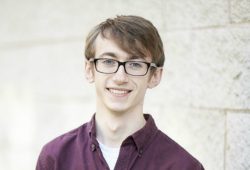 While I was at university, I started volunteering for a student helpline and I realised I had an ability to listen and support people without judgement. After graduating, I looked for work in this field and came across the Think Ahead programme which introduced me to the idea of mental health social work.
My degree was in Film and Literature so my friends were surprised that I chose mental health social work, but they've all been very encouraging.
Being on the programme has been a steep learning curve because I came straight from university into a professional environment, working with at-risk people where there's a lot at stake.  However, I've been given support at every stage and I'm not on my own in making decisions.
I'm in a community mental health team that works with people who have depression, anxiety and personality disorders.
Being personable and able to relate to the service user is really important. There is only so much you can get from reading case notes; to be really good at this job, you need to be perceptive and be able to tune into what the service user needs. It is very rewarding when you are able to build a rapport and help someone recover.
One of the insights I've gained on the programme is that situations can change rapidly so you need to be able to adapt. You can make well thought out plans, but the nature of mental health means that things can turn around quickly. Instead of getting attached to a plan, you need to reassess the person's needs in that present moment. It makes you think on your feet, which I enjoy.
I would definitely recommend the Think Ahead programme, especially to graduates who want to help individuals and society as a whole.
Arnold – University of Warwick graduate 
Supporting individuals to live independent lives is incredibly rewarding.
Suzanne University of Cambridge graduate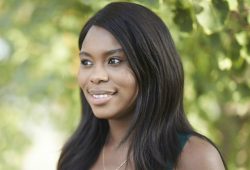 After almost two years practising law, I realised that it wasn't the right career for me. I wanted to find a job where I could build relationships with individuals and make a real difference to their lives on a daily basis.
One of the things I enjoyed most at the start of the Think Ahead programme was that I was able to start working with people directly within the first few months. Working with different people in different situations means my day is never the same.
My work has included helping someone to prepare for a tribunal, and with another person, I advocated for them to get better accommodation and access to benefits.
Although mental health social work is different to law, there are some transferrable skills such as advocacy, negotiation, relationship-building and communication skills that have all been very useful.
I think a good mental health social worker needs to be non-judgmental and have strong listening skills rather than just talking to people; feeling listened to and being treated as an individual can completely change the way a person feels. It's also important to stand up to injustice to ensure that everyone receives fair treatment.
Seeing the difference my interventions can make to an individual's life has confirmed for me that I had made the right decision to leave law; I find that supporting individuals to live independent lives is incredibly rewarding.
In my opinion, mental health social work is like the missing piece of the treatment puzzle. For years, people with mental health problems have been treated with medication and psychiatric interventions – but there are aspects of a person's life that these don't touch. A person's mental health cannot be considered in isolation. A mental health social worker looks at the whole person, their social circumstances and how it impacts on their mental health. It is these day-to-day aspects of their lives that can make a difference to their long term recovery.
Suzanne – University of Cambridge graduate
I worked in the City as a head hunter for banks but I didn't find this fulfilling.
Jan University of Edinburgh graduate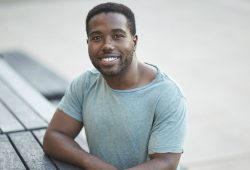 After studying Ancient History at university, I worked in the City as a head hunter for banks but I didn't find this fulfilling. My second job was working with young people with learning difficulties, which I really enjoyed.
While I was there, I met a social worker who I found really inspiring. That was when I decided to go back into education to study Psychology. When I graduated, I applied for the Think Ahead programme because it offered the perfect opportunity to study for an MA while also being paid to work in mental health social work.
Being on the programme has given me the opportunity to work with people who have a wide range of mental health problems. The Think Ahead programme has given me a deeper understanding of the impact that mental health can have on both the individual and the people who care for them. I've also gained insight into the impact of housing, benefits, poverty and deprivation on people's mental health, and the plight of some people in London.
What makes this programme stand out is that you are training with like-minded people who all want to achieve the same goals.
We are all driven by the desire to work in this sector and, if possible, help improve existing services for the benefit of our clients, utilising fresh ideas and new ways of working. Overall, we hope to have a lasting impact.
It is exciting to think that the work we are doing isn't just confined to our team or even our region; it is happening all over England.
Jan – University of Edinburgh graduate
I wanted a career where I could make a tangible difference. Everything Think Ahead offered really spoke to me.
Amy University of Oxford graduate
It sounds like a cliché but I knew I wanted a career where I could make a tangible difference. In my second year at university I had a panic about what I wanted to do, and looked at graduate roles, but they were all predominantly city and corporate schemes and I couldn't see how I'd be making the kind of difference I wanted to make.
After finding Think Ahead on a careers website I attended a talk of theirs at Oxford. Everything Think Ahead offered really spoke to me, matching the things I wanted to achieve.
What struck me was how social work is such an interdisciplinary role. I studied Human Sciences, a subject where we take a holistic and individual approach to understanding people just like in social work. My degree made me see people in different ways, and I feel that Think Ahead allows me to put that insight into practice. Although at first it felt daunting when some other participants seemed to have a greater level of work experience, I do think my degree has put me in very good stead.
What I want from Think Ahead is to become good at giving others what they need. After the two-year programme I plan to stay on the frontline and gain more experience. I'd like to qualify as an Approved Mental Health Professional and perhaps eventually work in policy, for which as much experience as possible would be vital. But I definitely want to stay in mental health – it's what I'm passionate about and Think Ahead lets me follow that passion!
Amy – University of Oxford graduate
It's the perfect balance between being thrown into the deep end, and being supported.
Eleanor Durham University graduate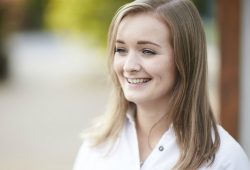 My interest in mental health partly comes from my personal family experience. My mother had severe mental health problems and, by supporting her through that, I saw first-hand how positive relationships can help.
After my Psychology degree, I knew I wanted to work in mental health and was drawn to the Think Ahead programme because of its holistic approach to social work. I've really enjoyed my experience – I'm getting the opportunity to learn evidence-based practice and I am given the time to look at research and theory, as well as reflect and gain feedback from the service users.
One element of the programme I've really appreciated is the level of support. I have weekly meetings with my manager and the three other trainees in my unit where I can discuss the people I'm working with, revise my practice and then review it again a few weeks later. I also have weekly supervision meetings where I can talk about anything I've been struggling with.
The other trainees are really supportive too and it's inspiring to feel that, together, we're going to make a difference to individuals, as well as mental health and social work more generally.
I am definitely planning to stay in this sector in future and would recommend Think Ahead – 100%. It's the perfect balance between being thrown into the deep end of mental health social work and being supported, while also integrating study and working full-time.
Eleanor – Durham University graduate
Social work is so holistic and practical. You get out and empower people. That's how I want to help.
Sonya University of Manchester graduate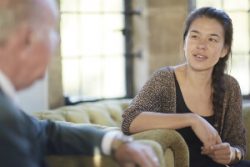 I've always had a strong interest in mental health, but after my degree in Psychology and Neuroscience I ended up working in the pharmaceutical industry. Unfortunately I couldn't find a passion this field, so I went back to studying and did a masters in Medical Anthropology, where I specialised in mental health. It really grew my interest – I enjoyed learning about the social and cultural aspects that affect people's mental health.
Before I joined Think Ahead I was working for the Royal College of Psychiatrists doing research and auditing. I also volunteered at a small healthcare clinic in Bethnal Green, run by Doctors of the World. The clinic helps people who are struggling to access the NHS – often asylum-seekers and refugees. I would usually be the first person they saw at the clinic and would do health and social care assessments, refer them to a doctor or nurse if needed, and get them registered with a GP and educate them about what they're entitled to.
In my volunteering I could see how much social situations can affect mental health. A lot of the people I met were struggling with their mental health but they didn't know how to get help. Their problems were often linked to difficult backgrounds, or some had awful journeys to get to the UK.
I considered psychology and counselling, but I wanted to interact with people beyond the four walls of the therapy room. Social work is so holistic and practical. You get out and empower people by helping them with social issues like housing, employment, and building relationships. That's how I want to help.
Sonya – University of Manchester graduate
The Think Ahead attributes
Think Ahead is an intensive programme with strictly limited places, and the selection process is very rigorous.
We are looking for exceptional individuals who have the potential to become excellent mental health social workers, and go on to become leaders in their fields.
You don't need any prior experience of social work, but you will need to demonstrate that you have the attributes necessary to excel on the Think Ahead programme and beyond.
To be successful, you will need to demonstrate all of these attributes:
Leadership
The ability to act as a professional role model, demonstrate initiative, and engage others and enable them to achieve their goals.
As a mental health social worker you will lead the coordination of individuals' care, engaging with different colleagues and professionals to work towards someone's recovery. You may need to be creative in your approach to situations as you work with individuals, their carers, and other professionals.
Motivation
Personal commitment to transforming the lives of people with mental illness, with an understanding of the positive impact of social work and the Think Ahead mission.
We are looking for people who are committed to making a positive impact for individuals, families, and communities. You need to understand how social work contributes to improving mental health, and how Think Ahead is making a difference.
Adaptability
Resilience and flexibility in changing circumstances, with the ability to work under pressure and deal with uncertain or unexpected outcomes.
Social work is an ever-changing environment and you will need to be prepared for every eventuality, including crisis situations. Your work with vulnerable adults will put you under pressure, and you will need to remain calm and patient in unexpected situations. You will work with a variety of different people in a range of working environments.
Relationship-building
Empathy and respect for all individuals, with the ability to build relationships and understand people's motives and perspectives.
You will need to develop strong relationships with people, from service users and carers to colleagues in mental health, government, the legal system, and many other services. You must be able to listen to others and respect their opinions, and confidently put forward your views as an advocate for the people in your care.
Communication
The ability to collaborate with and influence a wide range of people, in person and through written communication.
You will need to communicate effectively and respectfully with people whose ability to communicate may be impaired by their illness. A vital element of your role will also be collaborating and negotiating with other mental health professionals (such as psychiatrists and psychologists) and people from other organisations. As well as communicating assertively in meetings and discussions, you will need to create robust, concise written arguments, for example in writing Mental Health Act tribunal reports.
Problem-solving
The ability to objectively analyse situations, using evidence and clear judgement to generate effective solutions.
You will have to make decisions under pressure, in complex situations with only conflicting or incomplete information available. This will require you to apply your knowledge of legislation, policy, and social work interventions, using clear judgement and objectivity.
Self-awareness
The ability to understand, and reflect critically on, both your own personal development and how your actions affect others.
To manage your personal wellbeing and your impact on the people you work with, you must be in touch with your own emotions and abilities. You will manage a pressured workload and face difficult ethical judgements, so you must be aware of professional boundaries and know when to seek support and advice. You will be required to regularly reflect on your work, seeking feedback and engaging in continuous professional development.