Additional opportunities for students and graduates
Recruitment Ambassadors
We've got a new paid opportunity for motivated and proactive undergraduate students to support our work in the 2020/21 academic year. Read on to find out more about how this flexible role can help you gain transferable skills while raising awareness of mental health social work.
Details: 
Earn the Living Wage of £9.50 per hour (£10.85 with London weighting).
Work flexible hours – on average two hours per week, for eight weeks between January and March 2021.
Deadline: The final deadline is 9am on Monday 14 December.
We are looking for enthusiastic university students with excellent communication skills and a passion for mental health to help us raise awareness of mental health social work and the Think Ahead graduate programme across their universities.
As one of Think Ahead's Recruitment Ambassadors, you will work independently to promote our programme at your university, for example by:
Building and utilising your networks with students, societies, and academic departments.
Running remote events for other students.
Supporting the Think Ahead Recruitment team at careers fairs, presentations, or other recruitment events (all currently being held remotely).
Acting as a professional point of contact for interested students, providing support with their applications, and answering their questions.
I really enjoyed the role – no two weeks were the same.

Chloe, former Recruitment Ambassador
You'll gain a range of transferable skills in areas such as marketing, planning, and networking. This role would be a great fit for someone looking to start a career in mental health, charities, marketing, communications, events, PR, or related roles.
We expect this role to be remote in the 2020/21 academic year. Training will be provided before you commence your role.
Want to know what it's like to be a Recruitment Ambassador? Read about Chloe's experience below.
For more information about the job and eligibility requirements, download the job description below.
Apply for a Recruitment Ambassador role
Chloe's experience
Chloe was a Recruitment Ambassador for Think Ahead while studying at the London School of Economics and Political Science during the 2017/18 academic year.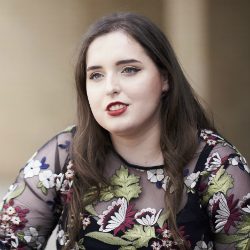 Chloe said: "I wanted to do the Recruitment Ambassador role because I believe Think Ahead is offering an innovative opportunity for students, and I like the organisation's commitment to raising the profile of mental health social work. I wanted to be involved in ensuring that students who were interested in roles in the public sector would hear about the programme.
"I really enjoyed the role – no two weeks were the same. Sometimes I would spend my time assisting students with their applications, other times I'd be promoting Think Ahead at careers fairs. I also organised an event along with ambassadors from other graduate schemes.
"It was very flexible, which meant that on weeks when I was busy with essays, I could prioritise my coursework and just do smaller tasks. I was also able to fit it round my other roles as a peer supporter and President of the Wellbeing Society – so it worked really well for me."